Contrà Santa Corona 4 - 36100 Vicenza (VI)
Tel. 0444 222815 – 0444 320440
- Fax 0444 325627
Web site http://www.museicivicivicenza.it/it/
Summary

The Naturalistic and Archaeological Museum of Vicenza was moved to the Dominican Monastery of Santa Corona in 1991. The archaeological section stretches over two floors and gathers findings from the surroundings of Vicenza dating back to a time span ranging from Palaeolithic to the Longobard period. The naturalistic section shows the different natural environments in the Berici hills, both in the past and nowadays. The museum is part of the civic museum network; therefore, it is possible to visit also other important monuments in Vicenza with one ticket.


Collection history

The Civic Museum was opened in 1855 in the splendid rooms of the Palladian Palazzo Chiericati. Initially, the collection gathered archaeological finds from rich private collections (count Girolamo Egidio di Velo, count Arnaldo Arnaldi Tornieri) and numerous Roman findings (inscriptions, architectonical elements and statues) discovered in different parts of the city by chance. The layout of the archaeological section, located on the ground floor, was changed in 1937. In 1987 the monastery of Santa Corona was renovated and in 1991 it became the seat of the Naturalistic and Archaeological Museum. The collection was moved due to the increase in the number of pre-historic findings discovered during the excavations carried out in the 20th century.
| | |
| --- | --- |
| | |
Aisle 1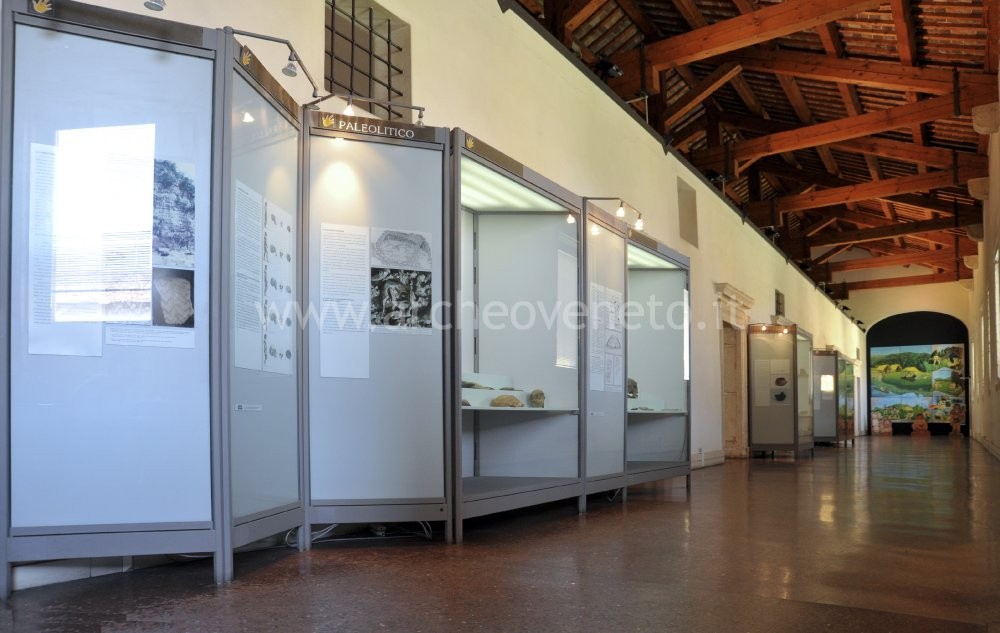 Along the aisle on the first floor there are three large display cases with panels dedicated to different historical periods, Palaeolithic, Recent Neolithic and Copper Age, respectively. The exhibition path follows this historical and chronological order through five rooms. In the first part of the aisle there are panels introducing Pre-history and in particular the origin of man. The first display case is dedicated to the Lower Palaeolithic period (700,000-120,000 years ago) both in Italy and abroad. The following panel focuses on the Middle Palaeolithic period in Europe (120,000-80,000 years ago) and the economy and spirituality of the Neanderthal man linked to the Mousterian lithic industry. The display case contains bifaces and blades without retouching (France) and Mousterian points and scrapers (France and Riparo Tagliente) found near some Neanderthal skulls.
Room 1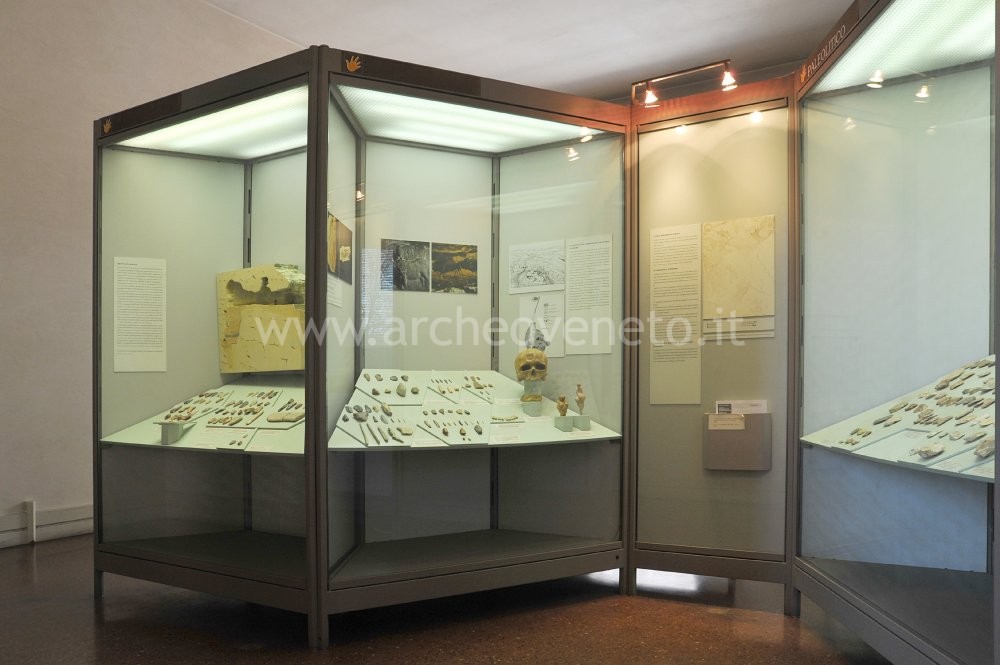 This room contains archaeological findings from the Middle and Upper Palaeolithic period found in the Berici hills, near the caves of San Bernardino, Broion, Trene and Paina. The former caves date back to the Middle Palaeolithic period and brought to light cores and flakes, scrapers and scratchers with lateral, double or triple-sided blades. The following panels focus on the Upper Palaeolithic period (40,000-27,000 years ago) which was marked by the presence of Cro Magnon man. The display case contains findings discovered in French pre-historic sites. As far as Broion cave is concerned, a deep analysis was carried out on both the findings brought to light (objects made using the Levallois lithic reduction technique, deer teeth and a bone point) and the environmental features of the cave site, as shown by the scale model. Findings from the Paina and Trene caves date back to the Late Copper Age and include flakes, core scrapers, blades without retouching, backed points, microlithic armours, bifacial foliate points. The following part of the room is devoted to the site of Altopiano dei Fiorentini. Findings date back to Würmian Late Glacial period (12,000-10,000 years ago). Cores used to make blades, scrapers, burins and retouched blades are exhibited. The last section of the room is dedicated to the Mesolithic period (10,000-7,000 years ago) which marked the passage to neolithization. Artefacts from this period were found in the Grottina dei Covoloni del Broion, Riparo di San Quirico and Covolo B di Lonedo.
Room 2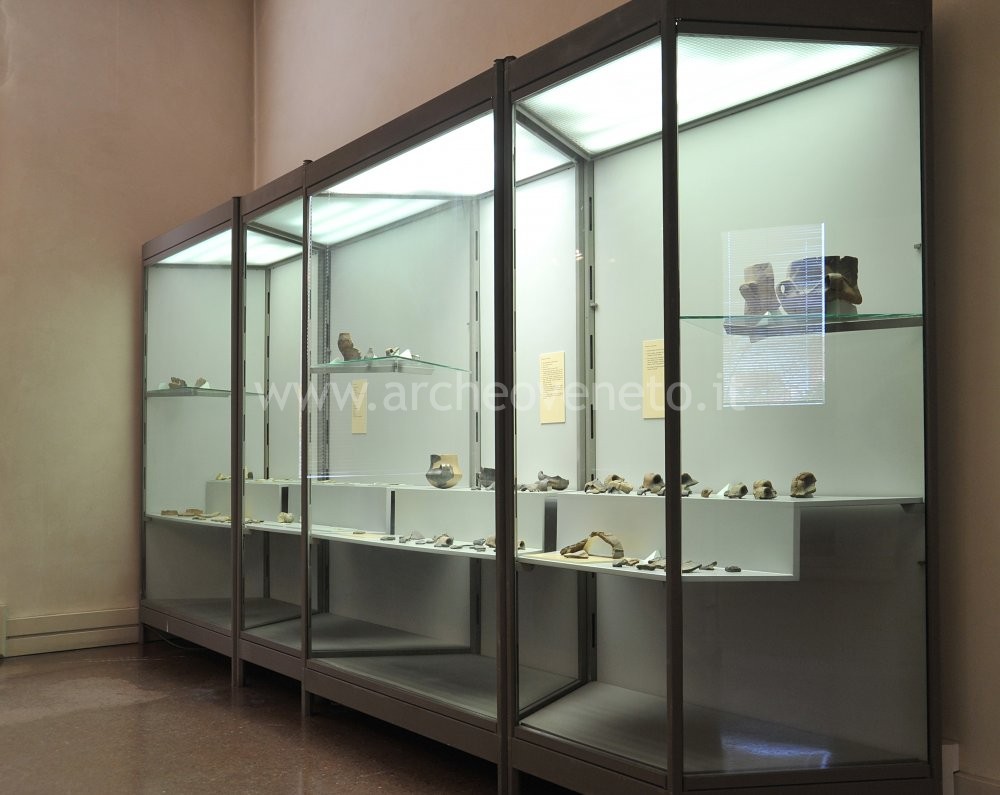 This room exhibits findings from the Late Neolithic period discovered in the area around Vicenza. Three large panels shortly introduce this period. Next to them a large display case exhibits findings from Cà Bissara di Poiana Maggiore, Valli di Fimon and Pianezze di Arcugnano in the Berici hills. In the first settlement, coarse clay pottery (truncated-conical vases and fragments of jars), fine clay pottery (carinate cups and long neck vases) and some examples of lithic industry (burins, scrapers, microburins, retouched, rhombic and trapezium-shaped blades) were found. Valli di Fimon brought to light flint tools such as burins, scrapers, retouched blades, backed points and blades. Pianezze di Arcugnano was a very thriving area in the 6th century BC, as witnessed by the large number of pottery and flint objects found in this area.
Aisle 2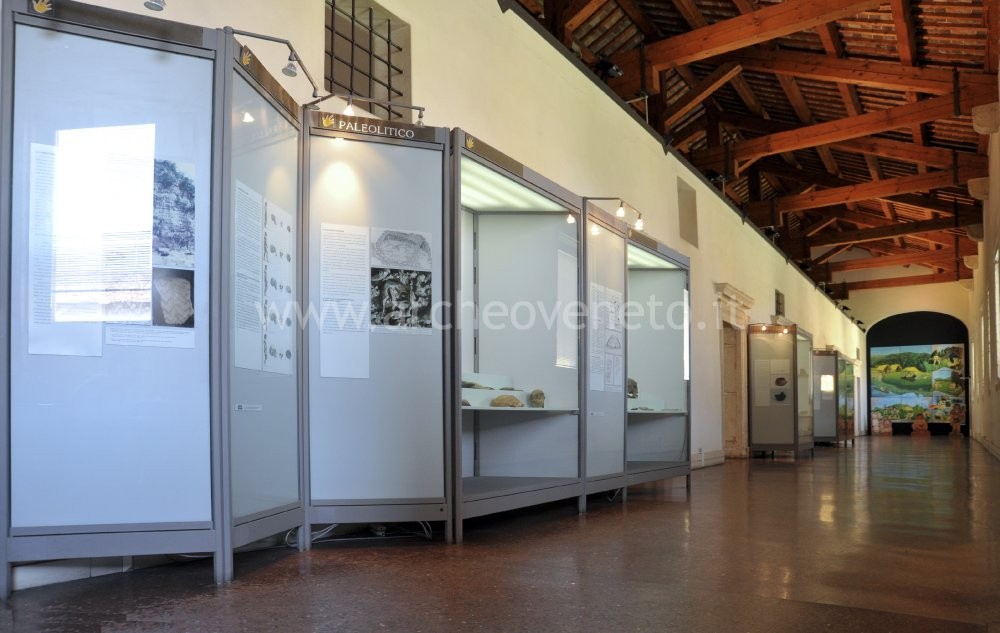 This part of the aisle contains a display case with items belonging to the "square mouth vases" culture (second half of the 4th century BC) developed during the Recent Neolithic period. The display case contains fragments of square mouth vases decorated with engravings and graffiti, cylindrical loom counterweights, stone axes, decorated spindle whorls and flint tools from Villa del Ferro-Val Liona, Valli di Fimon and Arcugnano.
Room 3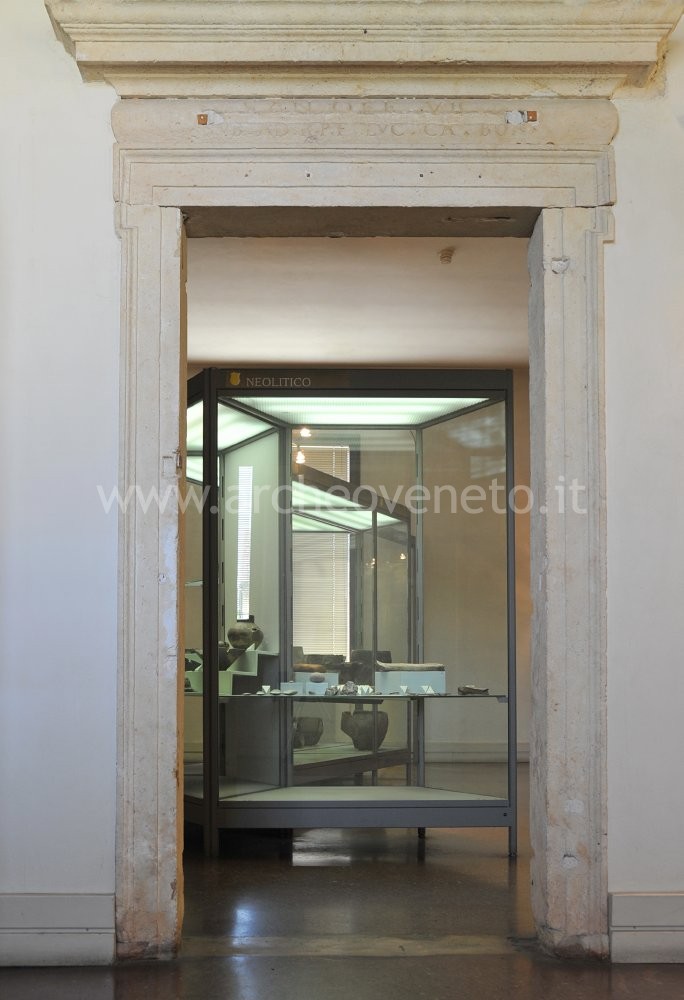 The exhibition of items belonging to the "square mouth vase" culture continues in this room. In the middle of the room there are five display cases which contain bone and horn tools, lithic tools and pottery found in Arcugnano, località Fimon-Molino Casarotto which date back to the first half of the 4th century BC. In Fimon-Molino Casarotto, the remains of three houses and drainage works carried out in the wide surrounding area were found. The last section of the display case exhibits a set of saddle querns from the same site, a testimony of the domestic activities in the village and of its subsistence economy.
Aisle 3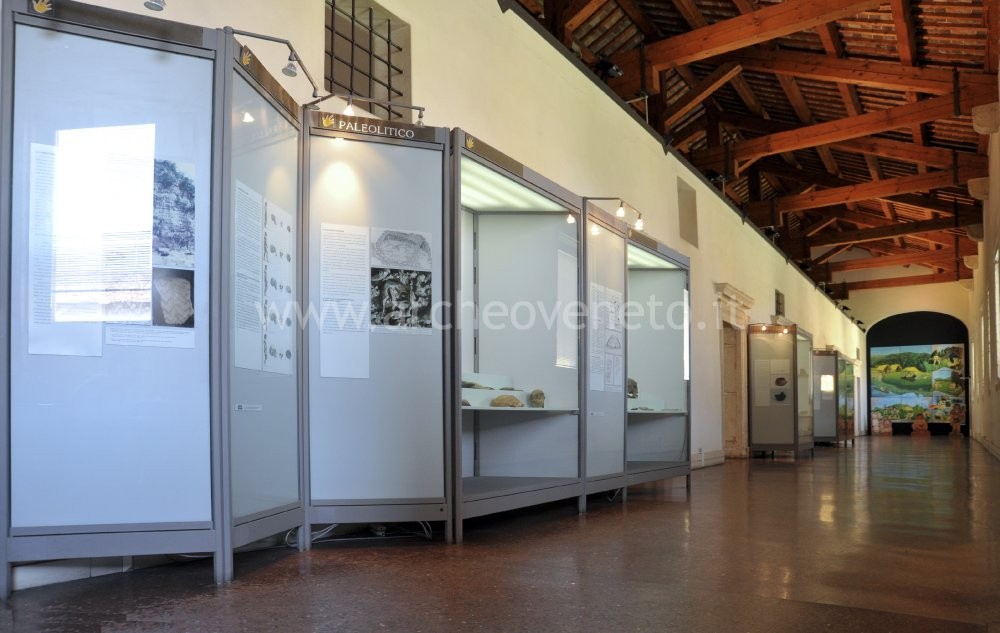 In this last part of the aisle there are a panel and two display cases which focus on findings from the Copper Age (3rd millennium BC) in the area around Vicenza. This transit period is marked by changes in the way pottery was shaped moving from the "square mouth vases" culture to a new type of bell-shaped vases. Drastic changes also occurred in the production of flint tools (campagnian technique) and metal tools (with the introduction of copper). A small display case exhibits an extraordinary bifacial foliate point in onyx, unique in its kind in the Po valley area, discovered in the Guerra cave in the Berici hills. The following display case contains ceramic artefacts, lithic tools, bronze axes, stone and bone objects found in Arcugnano, Santorso, Valli di Fimon and several caves near Longare (Perin, Alvise da Schio, Covoloni del Broion e Riparo Ferrara). The last display case is dedicated to the megalithic worship-burial site (Copper Age) of Sovizzo, località San Daniele. This site develops along a two-lane ritual aisle and ends with a tumulus which has not been investigated yet. The findings exhibited come from the smaller tumuli around it.
Room 4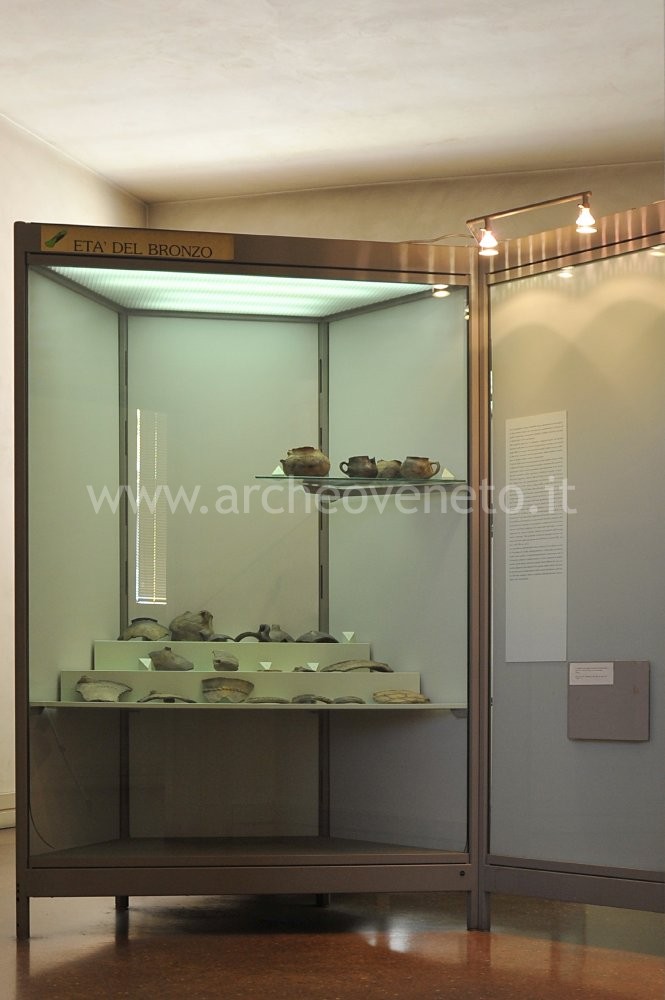 The exhibition dedicated to the Bronze Age (2nd millennium BC) starts in this room. This period was marked by the spread of artefacts in metal and, as far as Northern Italy is concerned, by the presence of the Polada culture (characterized by settlements on pile-dwellings). In the Vicenza area, noteworthy are the settlements of Arcugnano, località Pascolone and Arcugnano, Fondo Tomellero. Findings from the first two phases of the former settlement in the late and middle Bronze age include mainly pottery (truncated-conical jugs with plastic and ribbed decorations, single-handle vases, single-handle globular vases and cups with different moon-shaped handles). Fondo Tomellero conveys important information on settlements in humid areas in the middle and recent Bronze Age (15th-13th century BC). Archaeological findings include flint artefacts and numerous ceramic fragments. The last display case in this room is devoted to Arcugnano, Monte Crocetta (middle and recent Bronze Age – 15th-11th century BC). The presence of settlements in hilly areas offered people the opportunity to tap both hilly natural resources and the ones available in the settlements situated in humid areas previously inhabited. Archaeological findings include mainly ceramic artefacts, especially fragments of different types of cups with different shapes (hemispheric, carinate, with moon-shaped handles, with protovillanovianian decorations) as well as a trap for herbivores.
Room 5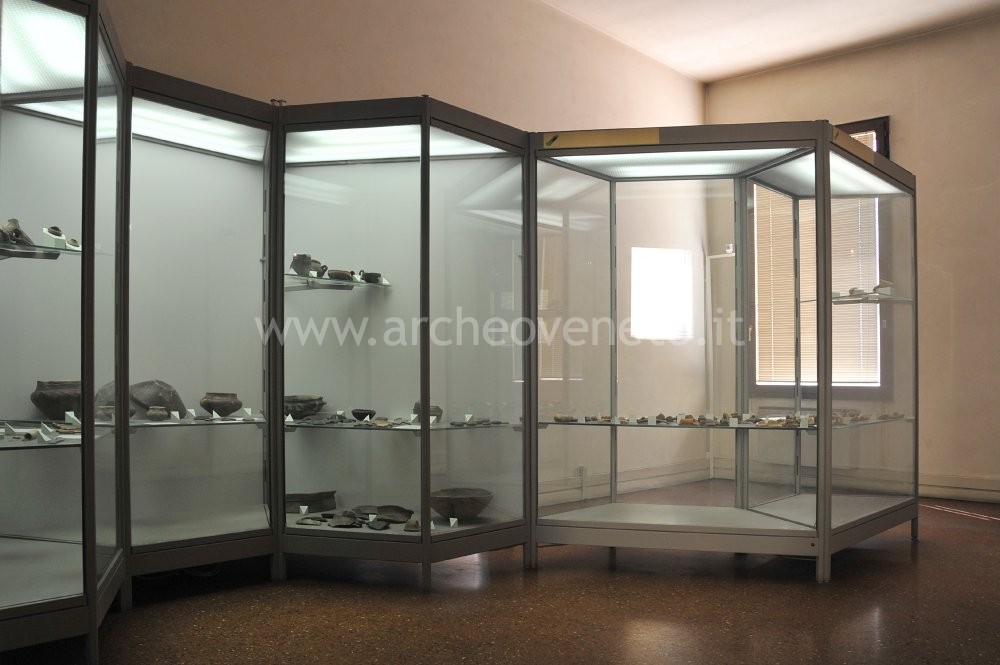 This room contains archaeological findings discovered in Castellon del Monte Brosimo. This stable settlement, probably connected to the one in the humid area in the Valli di Fimon, was permanently inhabited from the 18th to the 13th century BC (almost during the whole Bronze age). Findings from this site are gathered in the display case and mainly include pottery. The second section of the room is dedicated to the Late Bronze period (13th-10th century BC) with findings from Arcugnano, località Capitello which include different types of decorated ollas, bowls with ridged rims and biconic vases decorated with protovillanovianan motifs.
Room dedicated to the Iron Age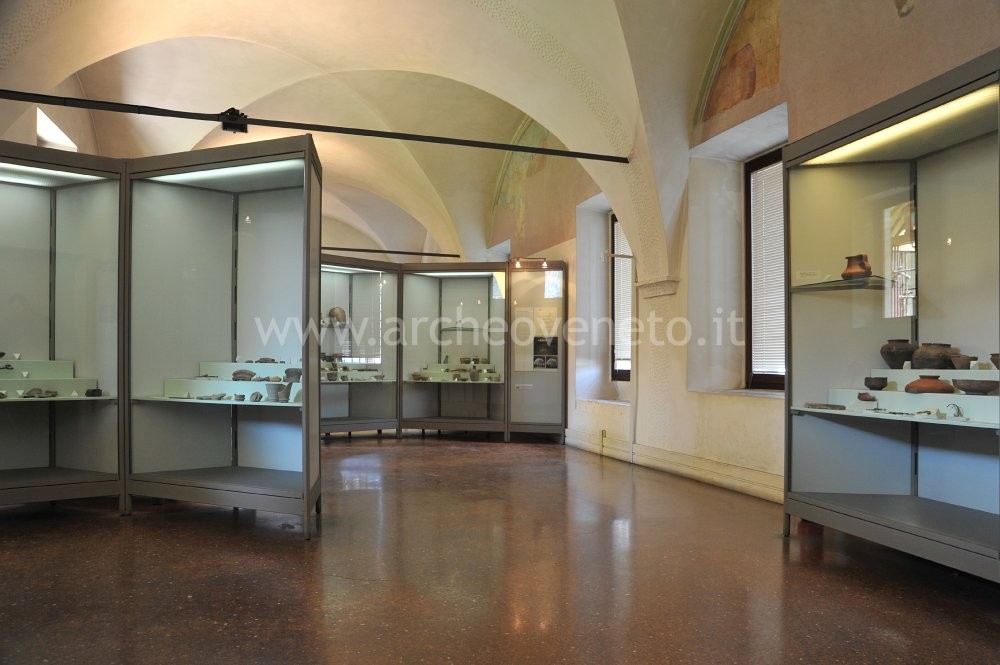 This large room overlooks the cloister-garth and contains proto-historic findings from Vicenza and its surrounding area. The first section of the room houses artefacts from an urban sanctuary, situated in the current piazzetta S. Giacomo. More than 200 artefacts in bronze were found here, bearing witness to the sacred nature of this place. Most of the bronze sheets dating back to a time span ranging from the 5th to the 2nd-1st century BC are decorated (engraved, embossed) and depict holy figures such as priests, priestesses, soldiers, initiation rites, athletic contests, anatomical ex-votos and community images. A bronze sheet with inscription (IANTS DONasto…) and alphabetical formulary (list of consonants and letters with magic-ritual value AKEO) might point to the presence of a scriptorium inside the sanctuary. The second section of the room houses four display cases which contain artefacts from the "Veneto" period in Vicenza (Santa Corona, near Bacchiglione, Ponte Marchese, Contrà Pasini, Corso Fogazzaro and Campo Marzo) and its surrounding area (Montebello Vicentino, Trissino, Valdagno, Montecchio Precalcino, Santorso, Malo and Schio). The first and the second display case host artefacts from the settlement situated in the current city centre of Vicenza, including vases, cups, lids and ceramic pateras painted in red and black or grey clay ones, a fragment of an andiron with protome of an horse, spindle whorls, a Certosa-style fibula, a winged axe, dragon-shaped fibula with daisies and a bronze horse. The third and the fourth display case host findings from settlements scattered in the area around Vicenza during the Iron Age; they include Etruscan-Padanian cups, large ollas and bowls, a jug with red-brown surface treatment, two examples of aes rude, slag, "La Tène" type fibulae, beads made of cast glass, local kitchenware, tools in worked bone, a knotted torc, a winged axe, a "Tarquinia" type sword, an ingot and a small ritual bronze tablet. Noteworthy are the Venetic votive inscription dedicated to DEIVOS TERMONIOS (deities who protect borders) discovered near the hill of Ambellicopoli and the famous stele from Isola Vicentina, the first and only epigraphic testimony in Venetic language with the ethnic name of the Ancient Veneti people (VENETKENS) written in it.
Room dedicated to the Berga Roman Theatre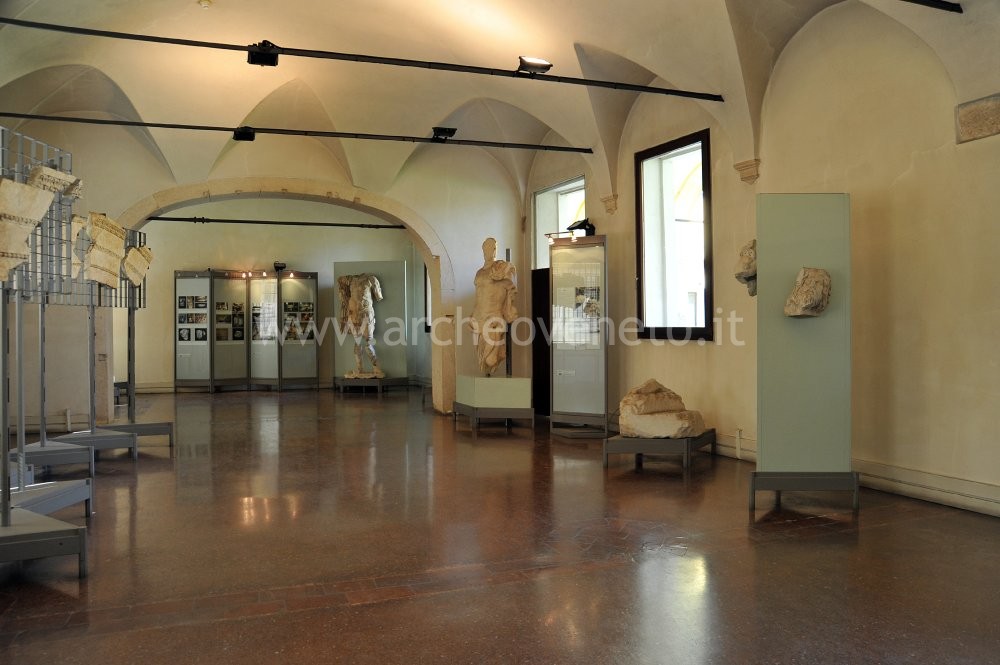 This room hosts items from the 19th-century dig in the Berga Theatre. This important building is situated in the current quarter of SS. Apostoli, piazzetta S. Giuseppe, quarter Porton del Luzzo and piazzetta Gualdi. A group of buildings built around its ancient walls and still partially preserved (up to 10 metres) brings out its position. Well-preserved materials include architectonical decorative elements and sculptures "in the round" which used to adorn the theatre. As far as its architectonical decoration is concerned, noteworthy are an arched architrave, a bucranium, a figured capital, a fluted column, a fragment of the Ionic capital of a column and an upper frame. Sculptures include numerous fragments of large statues and reliefs in marble, a portion of the drapery of a statue in bronze, two female statues attributable to Antonia Minor and Agrippina Minor, a head-portrait of Augustus, a male heroic statue and an acephalous draped statue.
Room displaying Girolamo Egidio di Velo's collection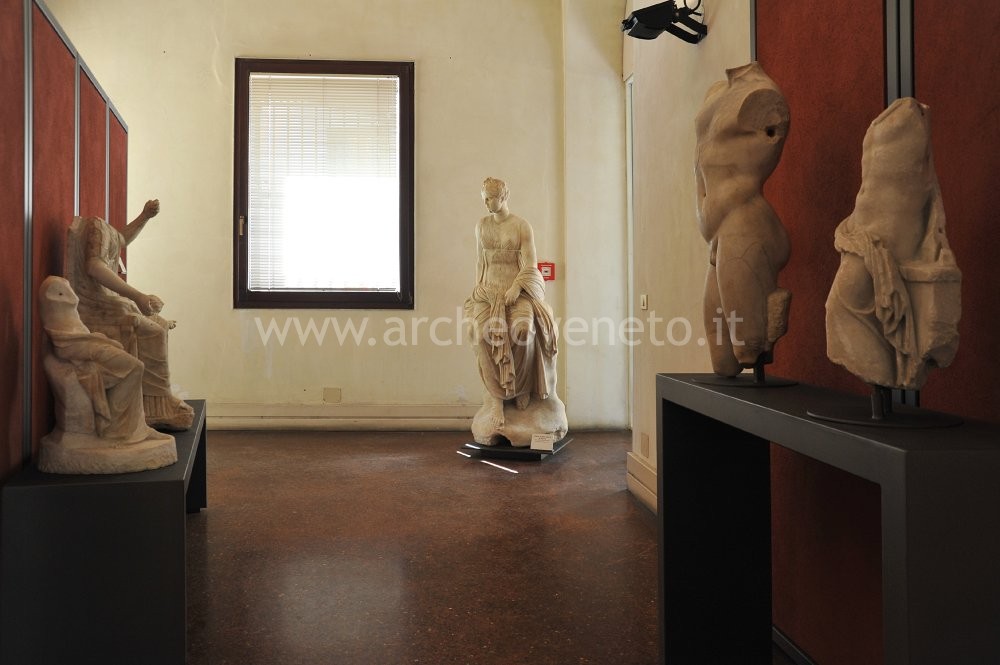 This room exhibits items from Girolamo Egidio di Velo's collection. Count Girolamo Egidio di Velo participated in the digs of the Baths of Caracalla, where architectonical and decorative fragments, including an extraordinary torso of satyr in a resting position, a portion of a colossal column in African marble, a female head (perhaps Artemis), a male head which served as a high relief and a mask-like decoration for bathtubs (probably Nile-Osiris-Apis) were found. The room also features a large number of statues, including heads and busts from the 1st-2nd century AD, four statues depicting female deities in a sitting position dating back to the second half of the 2nd century AD and two half-naked male statues from the 2nd century AD.
Roman room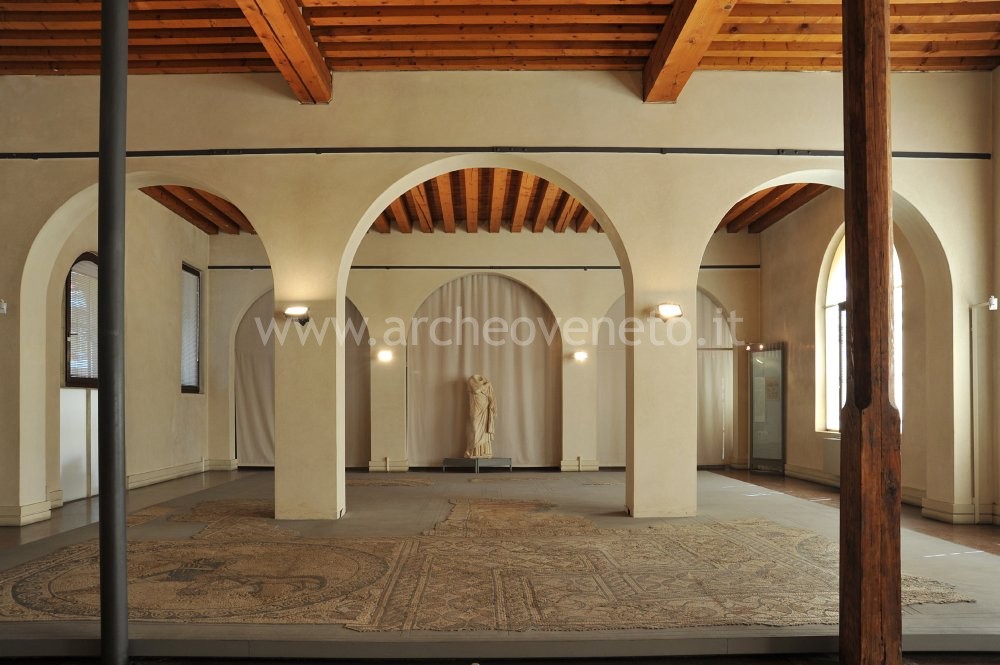 At the entrance of this room there is a scale model of a Roman domus with atrium and tablinum, a typology of domus known especially thanks to the digs in Pompeii and Ercolano. Two large mosaic floors cover most of the room. The first geometric and dichromatic mosaic (black rectangles on a white background around a black central square) placed on the right wall was discovered near the cryptoporticus (vegetable gardens of the bishop's palace) and probably belonged to a domus. The second mosaic, found in Piazza Biade, combines highly interwoven patterns around squared panels with figured decorations depicting scenes of hunting and fights between heroes and animals. The iconography of a victorious warrior (fight between Bellerophontes and the Chimera) is probably depicted in the central panel.
Lapidary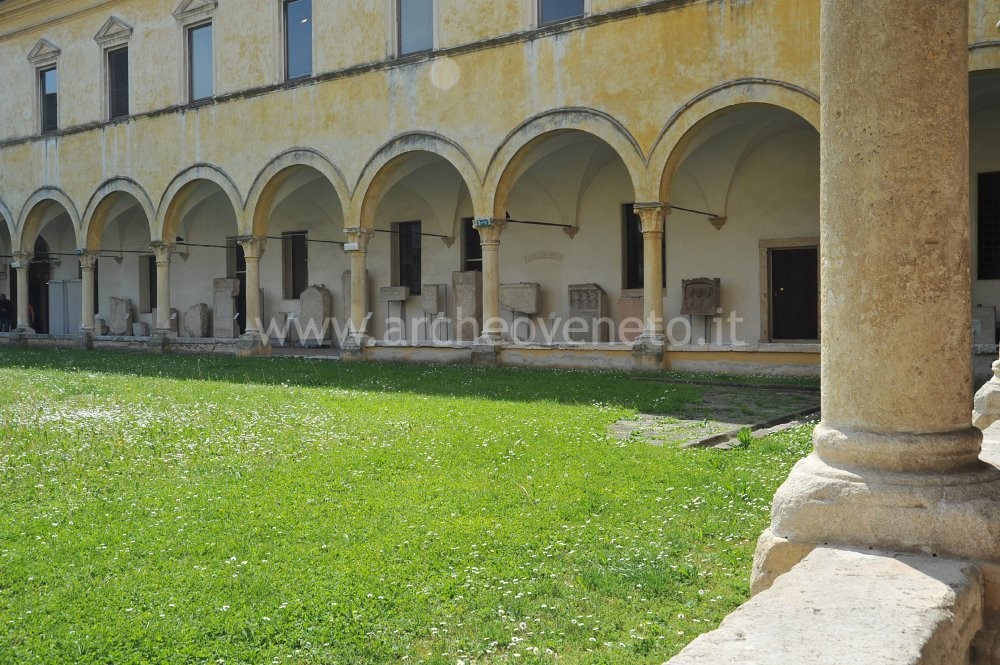 The lapidary is situated in the cloister of the ancient monastery. Most of the inscriptions come from Tornieri's collection. Epigraphs mainly refer to Roman sacred and funerary inscriptions.
Visiting

Admission: Negli orari di apertura; Ticket: Si; Price: Full cumulative fare (Museo Naturalistico Archeologico, Teatro Olimpico, Gallerie di Palazzo Leone Montanari e Museo Diocesano): 8 €; Reduced cumulative fare (Students, over 60): 6 €. Family ticket: 12 €; School ticket: 2,50 €. Free entrance: under 14, journalists, soldiers, museum officers, teachers.; School access Disabled access

| Tipology | When | Specs |
| --- | --- | --- |
| Summer | Tuesday | 09.00 – 19.00 |
| Summer | Wednesday | 09.00 – 19.00 |
| Summer | Thursday | 09.00 – 19.00 |
| Summer | Friday | 09.00 – 19.00 |
| Summer | Saturday | 09.00 – 19.00 |
| Summer | Sunday | 09.00 – 19.00 |
| Winter | Tuesday | 09.00 – 17.00 |
| Winter | Wednesday | 09.00 – 17.00 |
| Winter | Thursday | 09.00 – 17.00 |
| Winter | Friday | 09.00 – 17.00 |
| Winter | Saturday | 09.00 – 17.00 |
| Winter | Sunday | 09.00 – 17.00 |



Recommended tour time (minutes): 90
Services for visitors

Toilet
Bookshop
Rest points


Educational Services

Guide a stampa Brochure Catalogo


Italian

Information boards


Italian

Mobile cards


Italian and English

Captions under exhibits


Italian

Multilingual ads: Inglese


Information sheets

Guided Tours
Educational activities


Su richiesta: Studio D (049 88360553) e Ardea (0444 326880) per la sezione archeologica; Coop I Berici (348 7548756) e Coop Biosphaera (347 7633710) per la sezione naturalistica.

Educational workshops
Library and documentation centre


There is a photo archive.

Other activities

Bibliography
Magrini A. 1885, Il Museo Civico di Vicenza solennemente inaugurato il 18 agosto 1855, Vicenza .
Fasolo G. 1940, Guida del Museo civico di Vicenza, Vicenza .
Galliazzo V. 1976, Sculture greche e romane del Museo civico di Vicenza, Treviso .
Il Museo Archeologico di Vicenza 1996, Padova.
Zaghetto L. 2003, Il santuario preromano e romano di Piazzetta S. Giacomo a Vicenza. Le lamine figurate, Vicenza .
Musei e raccolte archeologiche del Veneto 2004, a cura di Di Mauro A., Dosson di Casier, pp. 133-136.
Bonetto J. 2009, Veneto (Archeologia delle Regioni d'Italia), Roma, pp. 367-371.
Cadario M., Favaretto I., Ghirardini Santinello G. 2010, Statue romane della collezione di Girolamo Egidio di Velo dei Musei Civici di Vicenza, Vicenza.