Lungadige Porta Vittoria 9 (Palazzo Pompei) - 37100 Verona (VR)
Tel. 045 8079400
- Fax 045 8035639
Web site http://www.museostorianaturaleverona.it
Summary

The Museum of Natural History of Verona, located in the Pompei Palace, displays both naturalistic and historical collections, which are organized in four main sections: botany, geology, zoology and prehistory. The archaeological finds discovered provide information on the human presence in the province of Verona since the Paleolithic and until the Roman Age. The collections are the result of the research carried out starting from the second half of the nineteenth century, as well as of the excavations organized more recently by the Museum, in four geographical areas of the Province of Verona, that is the Garda Lake, the Lessinian mountains, the Veronese plain and the urban area of Verona.


Collection history

The museum was established in 1856 and until 1926 it was used to store art collections, scientific and ethnographic collections, relics of Risorgimento (social and political movement that led to the unification of Italy) and other kinds of collections, which in 1926 were moved to the Museum of Castelvecchio; in this way the Museum of Natural History, which had become an autonomous body, started to host only naturalistic exhibitions. Following the two world wars and the damage suffered by the Pompei Palace, the Museum was closed to the general public until 1965. After its re-opening, the museum experienced a phase of great development, which was characterized by a general re-organization of the collections and the enhancement of research and didactic activities.
| | |
| --- | --- |
| | |
Room XVI. General prehistory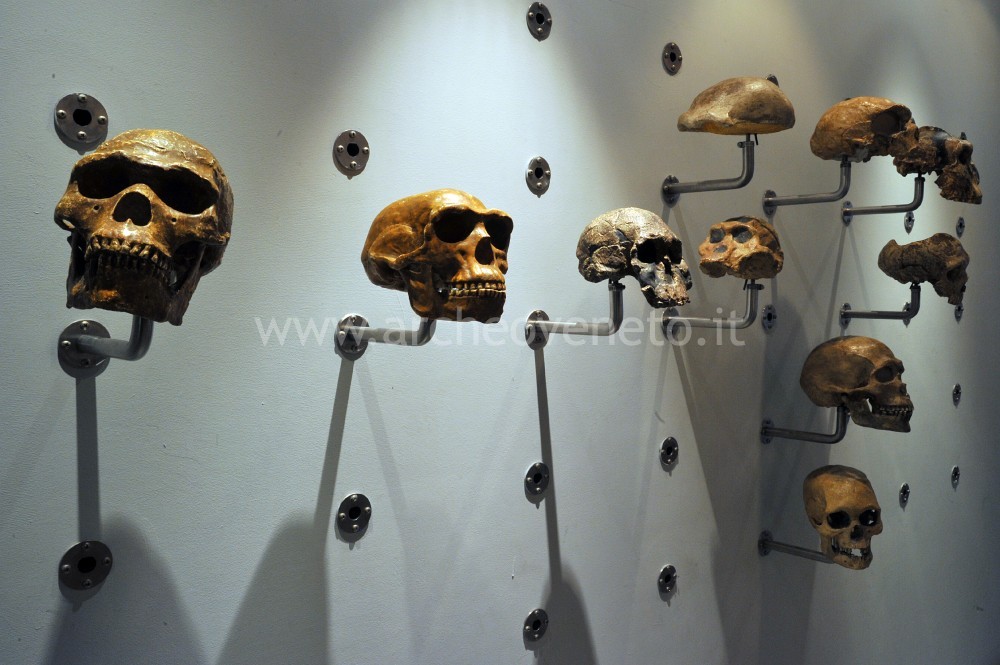 In this room, there is a panel explaining in a very simplified way, to make it suitable for children, the activities carried out by our ancestors between prehistory and the Roman age. Next to the panel, there is a computer, on which it is possible to find more detailed information on human activities. On the other side of the room, there are ten skull vaults, which illustrate the human evolution from the first hominids (Australopithecus) to the modern humans (Homo Sapiens Sapiens).
Room XVII. Prehistory of Verona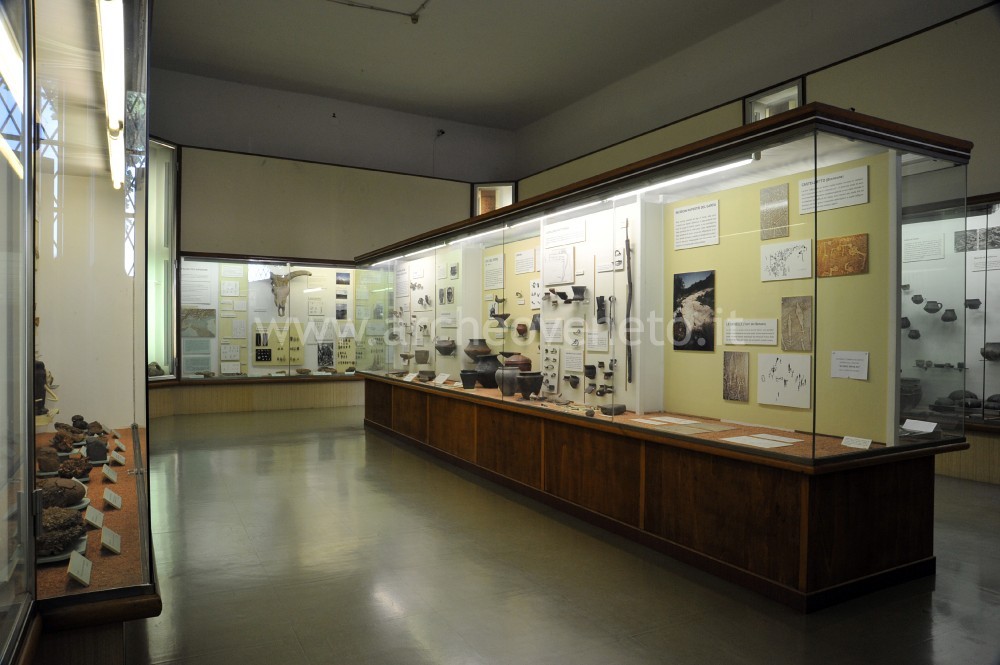 The room contains a rich collection of prehistoric finds discovered in the area surrounding Verona between the mid nineteenth century and the late twentieth century. The first display case regards the Lower Paleolithic (2.5 million – 120,000 million years ago) and contains items found in the caves of Quinzano (examples of flint tools and a human occipital bone), in Cà Pauli (bifaces) and in Lunghezzano (a biface and an Acheulan clay deposit). The items displayed in the second case date back to the Middle Paleolithic (120,000-36,000 years ago); they were found in Covoli di Velo (skull of a spelean bear), Monte Loffa (examples of Mousterian industry of the "La Quina" group), Cave di Quinzano (two kinds of Mousterian industry), Riparo di Fumane (Mousterian lithic industry), Riparo Mezzena and Riparo Zampieri (numerous examples of European Mousterian and a fragment of a mandible with prominent chin). The third display case contains finds dating back to the Upper Paleolithic (36,000-10,000 years ago) discovered in the sites of Torbiera di Barbarago (skull of an aurochs - bos primigenius-), Grotta di Fumane (pictures of worked shells and bones), Riparo Tagliente (examples of recent Epigravettian lithic industry, fragment of mandible and a shell necklace). The visit goes on with the exhibition of Neolithic traces found in the area surrounding Verona, in particular in Quinzano (square mouth cups and vases, green stone hatchets, scrapers, idols and pintaderas, fragments of figuline pottery, a tulipan-shaped cup and the grave of a body in a huddled position), which is a settlement typical of the Square Mouth Vase Culture (5th millennium B.C.); the other items come from Rivoli Chiazza (pottery decorated with characteristic patterns); Rivoli Castelnuovo (square mouth vases with herringbone decoration, a refined stylized statuette of Venus, pottery in the "Aichbul" – style). There are also some items dating back to the Neolithic, which were found in other archaeological sites in Veneto (not only from the province of Verona), such as Fimon (square mouth bowl and cups) and Bocca Lorenza (copper axes, numerous bone tools, weaving implements and some examples of lithic industry). The last part of this display case regards the Eneolithic, the transitional period between the stone Age and the Metal age. Archaeological finds providing information on this time were found in the sites of Colombare Negrar (pottery decorated with striped and metope patterns), an earthen pintadera, two axes made of stone and copper, as well as numerous examples of bone industry) and Villafranca Veronese (a decorated silver breast-plate with embossed stitching and a copper halberd). The fifth display case contains a set of finds dating back to the Bronze Age, which are particularly interesting. They come from Barche di Solferino (numerous examples of pottery of unpurified clay that is typical of the Polada culture, flanged axes, pins, bronze daggers, the cast of a wooden spoked wheel and a sickle with wooden handle and flint blades), Bor di Pacengo (pottery and bronze artefacts) and Porto di Pacengo (greenstone axe with handle in deer antler). Also the sixth display case contains objects dating back to the Bronze Age, which were discovered in Cisano (numerous ceramic fragments, bronze items and decorated bone objects), Tombola di Cerea (numerous ceramic materials and few examples of metal artefacts), Fabbrica dei Soci (ceramic material), Venezia Nuova (pottery), Castello del Tartaro (ceramic material with influences from the Adriatic region), Peschiera (extraordinary amount of bronze objects, including fibulae, pins and blades of different kind), Bovolone (three funerary urns referable to the last phase of the Middle Bronze Age or the early stage of the Recent Bronze Age) and Franzine Nuove di Villabartolomea (urns and grave goods of the Recent Bronze Age). The last display case contains, in the first part, archaeological finds regarding the transitional period between the Bronze Age and the Iron Age, which were found in Copi Romani (pottery), Marano (ceramic material), Croson di Bovolone (urn and a quadrangular razor decorated with engraved stitches), Ponte Molino di Ostiglia (urn and accessory vessel) and Monte Tesoro (a knife of "Matrei" type). Information on the Iron Age has been provided by the finds coming from Isola Rizza (urn), San Briccio di Lavagno (ceramic and metal material and a fragment of a bronze situla), Oppeano (large banded vases, bronze situlae and grave goods belonging to the culture of Este and dating back to the 8th-5th cent. B.C.), San Vito di Cerea (boat-shaped fibulae), Campo Paradiso (bronze ornamental objects), Colognola ai Colli (dragon-shaped fibulae), Monte Loffa (numerous examples of ceramic and iron material) and Vigasio (sword of "La Tène" type). The last part of the display case contains examples of rock carving found along the shores of the Garda Lake, in the area between Garda and Malcesine, referable to a time span between prehistory and today.
Visiting

Admission: Negli orari di apertura; Ticket: Si; Price: Full fare: 4.50 €; reduced fare (students, seniors, groups): 3 €; reduced for school classes and children aged between 8 and 14: 1 €; free admission: seniors aged 65+ living in the municipality of Verona.; School access Disabled access

| Tipology | When | Specs |
| --- | --- | --- |
| Summer/Winter | Monday | 09.00 – 17.00 |
| Summer/Winter | Tuesday | 09.00 – 17.00 |
| Summer/Winte | Wednesday | 09.00 – 17.00 |
| Summer/Winter | Thursday | 09.00 – 17.00 |
| Summer/Winter | Saturday | 14.00 – 18.00 |
| Summer/Winter | Sunday | 14.00 – 18.00 |



Recommended tour time (minutes): 45
Services for visitors

Toilet
Bookshop
Rest points


Educational Services

Guide a stampa Brochure Catalogo


Italian

Information boards


Italian

Captions under exhibits


Italian

PC learning points


Italian

Guided Tours
Educational activities
Educational workshops
Library and documentation centre
Other activities

Bibliography
Vesentini Paiotta G. 1988, Guida del Museo Civico di Storia Naturale di Verona, Verona.
Aspes A. 2000, Museo di Storia Naturale: l'esposizione e le collezioni preistoriche , in Archeologia a Verona, a cura di Bolla M. , Milano.
Musei e raccolte archeologiche del Veneto 2004, a cura di Di Mauro A., Dosson di Casier, pp. 109-111.
Bonetto J. 2009, Veneto (Archeologia delle Regioni d'Italia), Roma, pp. 355-356.