Vicolo Corticella S. Marco 3, inside the restaurant "Dodici Apostoli" - 37100 Verona (VR)
Tel. 045 596999
- Fax 045 591530
Web site http://www.12apostoli.it
Summary

The archaeological area inside the restaurant "Dodici Apostoli" displays some remains of the Roman forum of Verona. Particularly it includes part of the curia (the meeting hall), part of a building that was probably dedicated to the imperial cult and part of a road, which are all dated to the I century A.D.


History of research

The excavations were carried out by the General Direction for Archaeological Heritage in the Veneto region at the end of the Eighties, after some renovation works at the restaurant.

Urban and geographical context

Verona is located along the Adige river, where this enters in the Po plain, at about thirty kilometres east to the Garda lake. Its altitude is 59 metres above sea level and it is placed at the basis of the Lessini mountains. The archaeological area is in the core of the modern as well as of the Roman city centre. With respect to the latter, the area was on the western side of the forum.

Chronology

I A.D. (first half)
| | |
| --- | --- |
| | |
Curia and religious compound at the restaurant "Dodici Apostoli"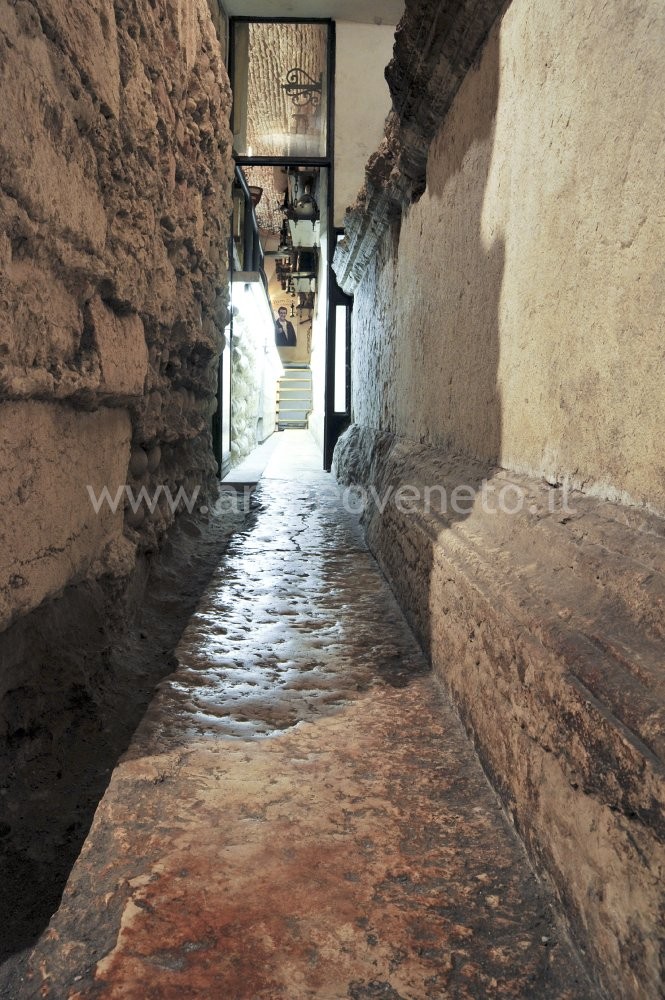 The archaeological area in the basement of the restaurant "Dodici Apostoli" conserves a piece of the western side of the Roman forum of Verona and includes part of the curia, part of the first road west to the forum square, and some remains west to the latter. The construction of the square dates back to middle I century B.C., when it was also built the Capitoline compound. The monumentalization of the western side of the form was carried out some decades later, in the first half of the I century A.D. and after a whole series of expropriations. At this time the locals built the curia and the religious compound west to the former. Today, only part of the western covering of the curia podium remains (A), which is moulded and 5,8 metres high. West to this it is possible to see part of the first road west to the forum, paved with large slabs of Verona limestone and flanked by sidewalks (B). West to the road it is finally possible to see about 37 metres of the external side of the back wall of a religious compound that was probably dedicated to imperial cults. The building took the whole block and it was constituted by a large raised area surrounded by porches (C).
Visiting

Admission: Negli orari di apertura; Visitability: Interno; Ticket: No; School access

| Tipology | When | Specs |
| --- | --- | --- |
| Only | Friday | 12-14, 19-22 |
| Only | Saturday | 12-14, 19-22 |
| Only | Sunday | 12-14 |
| Only | Thursday | 12-14, 19-22 |
| Only | Tuesday | 12-14, 19-22 |
| Only | Wednesday | 12-14, 19-22 |



Recommended tour time (minutes): 20
Services for visitors

Educational Services

Information boards

Bibliography
Cavalieri Manasse G. 1987, Verona, in Il Veneto nell'età romana, II, a cura di Cavalieri Manasse G., Verona, pp. 24-27.
Cavalieri Manasse G. 1995, Nuove indagini nell'area del Foro di Verona. Scavi 1989-2004, in "Forum et basilica" in Aquileia e nella Cisalpina romana, Antichità AltoAdriatiche, XLII, a cura di Mirabella Roberti M., pp. 241-272.
Archeologia a Verona 2000, a cura di Bolla M., Milano, pp. 43-44.
I luoghi della cultura 2006, Roma, pp. 385.
Bonetto J. 2009, Veneto (Archeologia delle Regioni d'Italia), Roma, pp. 445.