Roman and Late Antiquity workshops and buildings (Feltre Cathedral) – Feltre

Via Tiziano Vecellio 6, in front of the Duomo – 32032 Feltre (BL)
Summary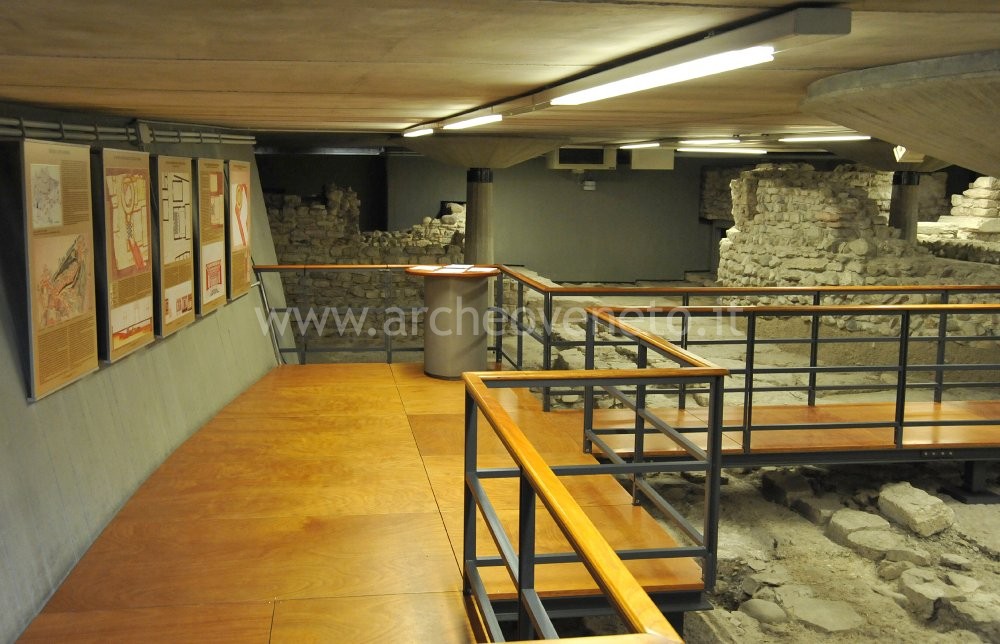 The archaeological area in the square "Piazza Duomo" displays relevant remains of Feltre in Roman and Medieval times. Particularly, the Roman age is represented by part of the urban area, with the remains of some workshops and of a public building which supposedly belonged to some professional association.
History of research
The earliest archaeological finds, particularly the baptistery, date back to the works for restructuring the area in 1926. The excavations were carried out by the General Direction for Archaeological Heritage in the Veneto region between 1970 and 1972 and in 1976. The importance of this group of buildings raised the issue of its presentation to the public, which started in 1983 and which required further excavation works in 1983 and between 1985 and 1986. The public presentation arrangements were finished in 1987.
Urban and geographical context
The territory of Feltre includes the most western part of the valley generated by the Piave river and between the Dolomiti and the Veneto Prealps. The main town in this territory is Feltre, which is located at 325 metres above sea level, west of the Piave river and at the bottom of the Dolomiti. The archaeological area is located in the city centre, under the square "Piazza Duomo".
Chronology
I-IV A.D. and Medieval times