Prehistoric cave – Fumane

Località Valsorda, Via Val del Progno (rise "salita Molina") – 37022 Fumane (VR)
Summary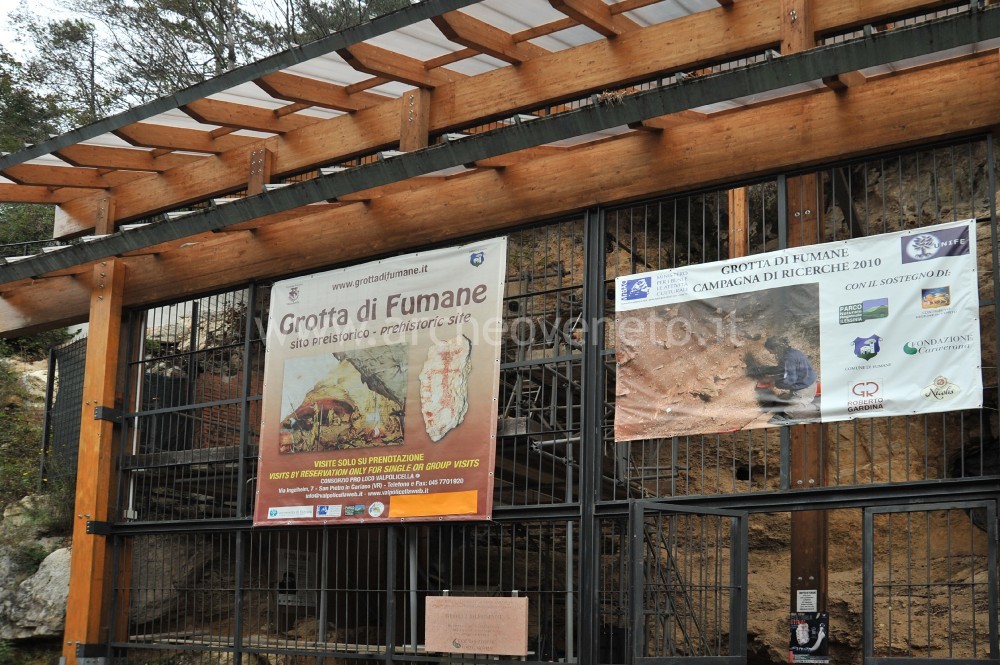 The archaeological investigations have demonstrated that the Fumane cave was occasionally occupied during middle and upper Palaeolithic, between 100.000 and 32.000 years ago. The area conserves the remains of a reiterated use of the cave, which are documented by about 20 layers containing stone artefacts, bones, shells, traces of fireplaces, living areas and some decorations in red ochre.
History of research
The Fumane cave was discovered by Giovanni Solinas in 1964, during the renovation of the road Fumane-Breonio. Some preliminary researches were conducted in that same year by the archaeologists Mezzena and Pasa who brought to light the middle-lower deposits of the site along the big section that was opened to extend the old public road Fumane-Molina. After the stratigraphic check that was carried out in 1982-1983, since 1988 systematic excavations have been carried out by the General Direction for Archaeological Heritage in the Veneto region in collaboration with the universities of Ferrara and Milano and with the Special General Direction for Prehistory and Ethnology of the Museum L. Pigorini in Rome. These excavations have allowed to identify the middle and upper deposits at the site, with their Aurignacian artifacts, and to suppose the existence and excavate the complex of inner galleries which had been blocked by a landslide.
Urban and geographical context
The cave is located at an altitude of 350 metres above sea level, on the left slope of the "Vajo di Manune", in the western Lessini mountains. It is connected to a complex system of fossil caves which have not yet been fully investigated and which contributed to the creation of a deposit over 10 metres thick.
Chronology
Middle and upper Paleolithic: 100.000-10.000 before present